A young Nigerian lady has taken to the popular micro-blogging platform, Twitter, to gush over her man after he went out of his way to prove his love for her.
According to the lady identified as @praiseghre, her boyfriend, who earns N40,000, proved his love by allegedly borrowing 500,000 from a popular loan app to pamper her.
She claimed she had asked her man to prove his love for her by doing something that showed his devotion to her.
To her surprise, her lover went above and beyond by borrowing half a million from the loan app to pamper her, despite earning a 40 thousand naira salary.
Clearly captivated by this gesture, she wrote,
"I asked this guy to prove his love for me, and he borrowed 500k from Palmpay, asking me to spoil myself with it. Even though his monthly income is 40k, no one can tell me otherwise. This guy really loves me. I'm so lucky ????"
See her post below,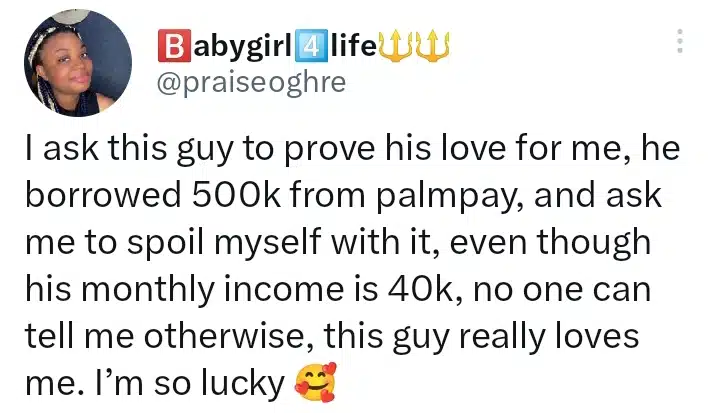 Meanwhile, a lady has taken to social media to express her disappointment in her partner after he bought her a phone that had a lower value than the one she had requested.
According to the lady, she had informed her boyfriend that she wanted a particular brand of phone which costs N345,000 for her birthday. However, he ended up buying a phone worth N120,000.
Upon receiving the phone and realizing it wasn't what she had wanted, she said she was heartbroken because she knew her partner could afford the phone she asked for.
In an attempt to address the issue, she sent him a lengthy note expressing her disappointment. Unfortunately, he did not respond to any of her messages, leaving her feeling ignored and further hurt.
"I'm 24 years old and this is my first relationship, my guy is good and spends for me, but during my last birthday I told him I wanted a phone, the cost then was 345k, I knew he could afford it, it's less than his salary of 400k in one month, but he got me a 120k phone. I felt heart broken, cheated, jilted, I felt I wasn't wanted, I felt disrespected.
I sent him a long text and asked for a break, he didn't even reply. It's been 4 months now, I've written to him almost ten times since last week, called him but he keeps blocking my calls, I wanted to tell him I've forgiven him so we can move on. I love him so much, I miss him and it's affecting my health. I didn't do anything wrong in my opinion, what can I do to get him back please? I will also like people's opinion." She narrated.